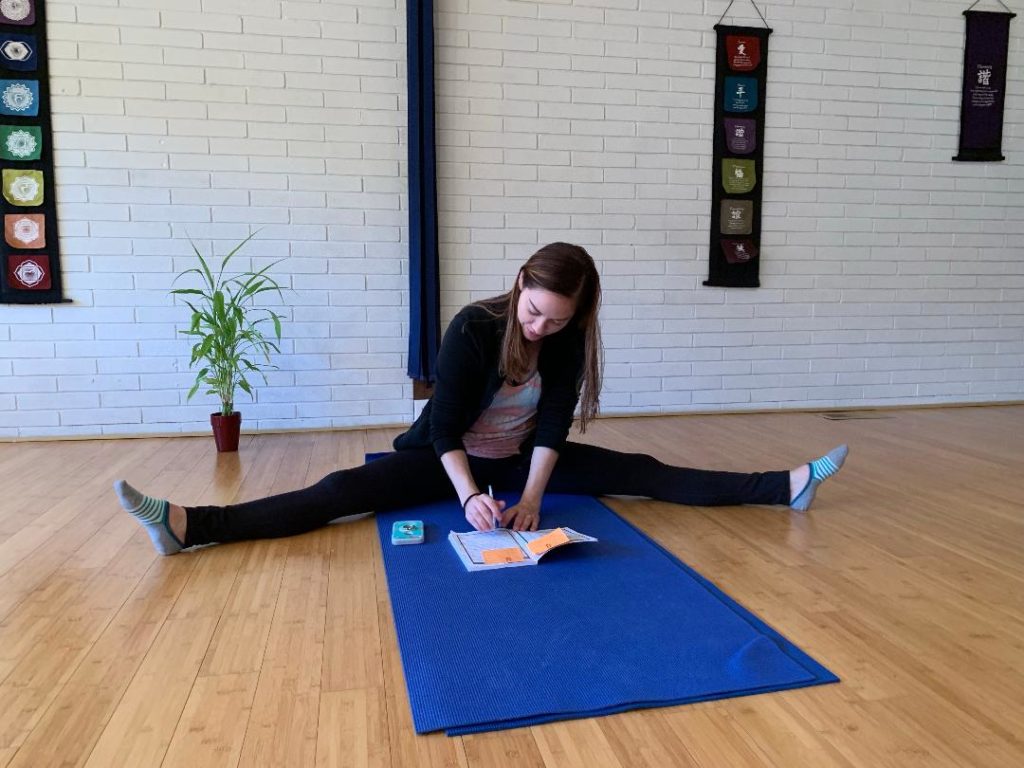 << Interviewed by River Lin >>
I sat down with Hailey in the Lotus studio last week for an interview. She greeted me with her big, beautiful smile and her open-arms approach that I'm beginning to understand is a signature characteristic of hers. She immediately made me feel comfortable in her space, so it was more like chatting over coffee with an old friend than a formal interview. It is clear that she is passionate about her work and the wellbeing of her clients. I'm looking forward to enjoying her wonderful energy at Lotus!
Why did you decide on a career as a Physical Trainer?
I lucked into it. I was in an immersive learning experience at BSU and I realized how well physical training coincided with dance, and so it just became an extension of what I was already passionate about doing through dance.
What about this work makes you feel most passionate?
I love getting to know people and helping them reach their goals. I would say I am passionate about helping people establish that mind-body connection because that awareness helps people align themselves with the deeper meaning in their lives.
I have to say that I am also passionate about providing an avenue for people who might be shy or nervous about working with someone on their physical goals. I mean, I know that a lot of people feel self-conscious about their bodies and it's hard to allow someone to see your problems or issues. I want people to feel comfortable in this environment and I'm passionate about making that happen for them. I understand that people might hesitate to join a fitness class or go to workout in a public gym, but in a more private environment like this – a one-on-one coaching situation, people may actually begin and stick with a program. I'm excited about that!
What are some examples of clients' goals?
Well, I worked with an amputee whose goal was to transition from sitting on the floor to standing without using a chair. I'm happy to tell you that he dropped 85 pounds! And yes, he moved from floor sitting to standing and no longer needed that chair!
One of my "hot topics" is muscular imbalance because that leads to more injury and unnecessary aches and pains. So, I love to work with people who need to improve their balance. Most of my older clients have balance issues, but honestly, all people have that challenge.
Also, many of my clients have weight loss as a goal. Loosing excess weight helps people to feel better and to be able to move without aches and pains – it makes it possible for them to return to activities they used to enjoy. I love seeing them reach their goals!
How do you personalize a plan for your clients?
I start with an assessment. First, I do some tests to help me categorize their overall health. The second part of the assessment is muscular imbalances that might be present. I assess that information based on what they have told me about their goals and concerns to create a plan that will address their issues while moving toward achieving their goals.
What strategies do you use to keep your clients motivated to keep focused on their goals?
Well, I think that when people see results, they stay motivated, so I help them recognize even subtle changes and improvements along the way.
How long should people work with you? (What are the benefits of a 5 pkg. vs. a 10 pkg. What is a maintenance package?)
The assessment tells me how long is best. A 5-session package is designed for someone who wants to have the assessment and be exposed to and the training activities, but doesn't necessarily need or want as much personal attention as what they would get with more time with me. A 10-session package is for people who are willing to be coached more regularly; it is especially good for chronic issues or long-term goals such as weight loss.
Is there anything else you would like to share with the Lotus Community?
Sure! I love coffee, cats, and dance! Oh yeah, and my husband, too!